When she was a little girl, Kacy C. Maitland watched her dad, a public figure, volunteer as a Helpline volunteer for Samaritans because it was the one place where he could help others privately – without anyone knowing it was him. Years later, Kacy returned to Boston after finishing college, and one of the first things she did was look for an opportunity to volunteer at Samaritans to follow in her father's footsteps. Years later, Kacy now serves as the Chief Clinical Officer for Samaritans, leading the organization in providing its essential services – the 24/7 Helpline, grief support for suicide loss survivors, and community education & outreach.
This year, Kacy has decided to run the 2022 New York City Marathon in November on behalf of Samaritans. It will be her second marathon that she has run for Samaritans – the last one being the Boston Marathon in 2014. We caught up with Kacy to learn more of her story and to ask her why she runs.
I understand that you first learned about Samaritans through your father when he was a Helpline volunteer. How did watching your father volunteer influence you and your career?
When I watched my dad volunteer, I remember being captivated by what Samaritans does. They provide a listening ear and sit with people in what they are going through. I really believe that my dad learned to listen as a result of his volunteering, and because of that, I was never afraid to go to my parents to talk to them about anything – because I knew they would listen.
After I returned from college and became a Samaritans volunteer, I then became a Home Leader and applied for a grant to further what I could do with Samaritans. One day, my Dad finally said to me, "You have a full-time job. What keeps you coming back to Samaritans?" And that's when I decided to study to become a clinician. It's what inspired me to want to do more.
How have you grown or changed as a result of your work with suicide and mental illness?
The training I received to be a Helpline volunteer is one of the most foundational trainings I have ever received. Samaritans helped me not be afraid to have difficult conversations and to sit with people in their pain. Working with Samaritans also helped me gain a larger understanding of the way the world works. You start to learn that systems are oppressive and that people get treated differently because of the way they look or who they love. All of it drew me in to want to do more and contribute to the world in this way. My exposure to Samaritans completely shifted my life events.
And even though you are already deeply involved in Samaritans, you are still choosing to run the New York City Marathon on behalf of Samaritans this year. Why do you run?
I run particularly for Samaritans because everyone can play a role in suicide prevention and everybody deserves to live. So many people struggle for so many different reasons. There is this big misconception that only certain people die from suicide or struggle with mental illness. Running just reminds me of the humanity that connects us all.
And from what I understand, you have run for Samaritans before. What was your first marathon like?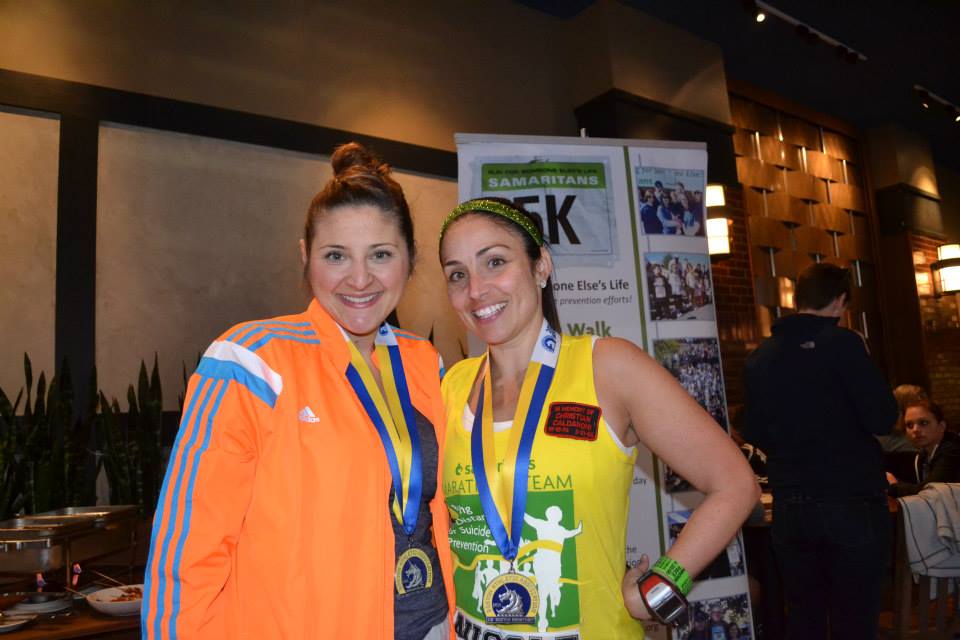 I ran the Boston Marathon in 2014. Most of the people who run for suicide prevention are running in honor of a loved one they lost. I am not a direct survivor of suicide loss, but I believe I am able to have a level of understanding of the grief experienced through loss. In 2014, I wrote on a piece of paper all of the names of the loved ones whom other Samaritans ran for, and I carried that with me the entire way. It is what got me through. I run to remember them and honor the lives of anyone who has struggled.  
Why are you choosing to run the New York City Marathon this year?
When I train for a race, it helps to instill this self-care that I always hope to have. It creates a schedule for me. It makes me responsible for training. It forces me to take care of myself and my body. It forces me to work hard, and it also reminds me that it's important to stand up for something. Training is my way to continue to put out there that mental health is critically important. I run to remind people that you are not alone.
What do you wish the world knew about Samaritans?
I wish the world knew that you can reach out to Samaritans for any reason at all. I think that people often think that you have to be in active crisis or actively suicidal to use our services. That's just not the case. You can call for any reason, even if you are just having a bad day. I also wish people knew more about our grief support services. Folks who lose loved ones to suicide often don't reach out for help because of the enormity of the grief and the stigma around the loss. Our service is driven and run by folks who have lost someone to suicide, and I think it's so important for suicide loss survivors to be able to talk with other people who have experienced something similar.
What do you think you will be thinking and feeling when you cross that finish line on November 6?Pride. I feel proud to run for an organization that is doing such great work. I am proud knowing that all of the funds that I raise go directly to the services we provide. And (chuckling) I'll probably feel a bit of relief, too, that I actually did it!
Visit Kacy's Fundraising Page, and donate to support her run in the TCS New York City Marathon this year. All donations will go to Samaritans to support their life-saving services.