Hey Sam
Hey Sam is a dedicated peer-to-peer texting service for people up to 24 years old. Designed for and staffed by young people, Hey Sam gives youth the opportunity to reach peers if they are struggling, need someone to talk to, or need support.
If you or someone you know is feeling lonely, depressed, overwhelmed, or suicidal, we are here for you.
Whatever the reason, reach out. You are not alone.
Text: 439-726 | Hours: 9AM-12AM (Midnight) ET
Our Impact
Since the launch of Hey Sam in March 2022:
1,694
young people have used Hey Sam
75
young people engaged as peer-to-peer text support
over 2,300
text conversations have been received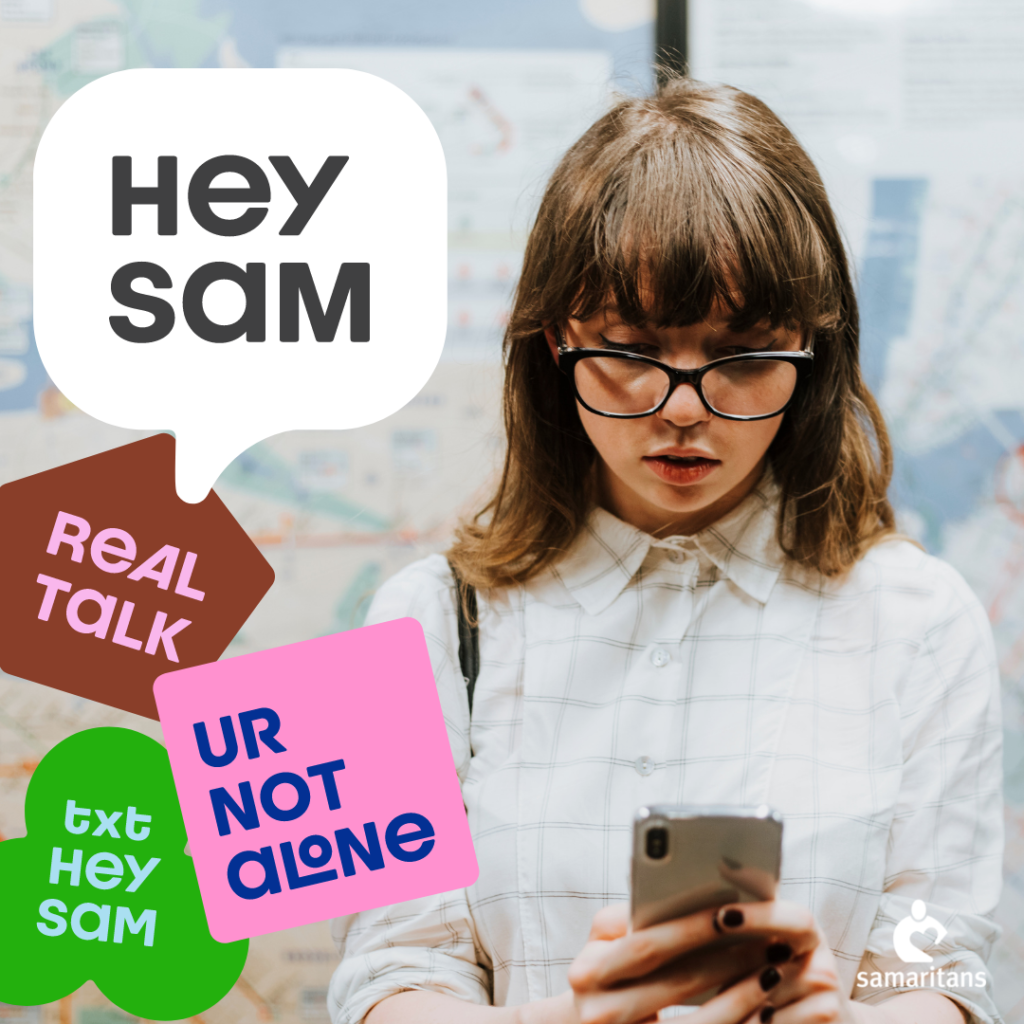 How it Works
Text Hey Sam at 439-726 when you need to talk.
One of our incredible volunteers will answer your text.
They will ask for your name, but you do not need to disclose it if you don't feel comfortable.
Our volunteers will listen to you. We will not give advice or try to "fix" anything. We simply want to support you in whatever feelings you want to share.
Become a Hey Sam Volunteer
Each day, people who struggle with loneliness, depression, or suicidal feelings turn to Samaritans' Hey Sam text line for nonjudgmental support. On the other side of their text message, they find a caring listener ready to provide compassion. You can be that caring listener!
People up to age 24 who want to help us answer Hey Sam texts are encouraged to fill out a volunteer inquiry form here.
Be the support someone needs.
Connect with Hey Sam on Instagram
TERMS OF SERVICE
By texting short code 439-726 you will be connected to a support line chat. Message frequency varies. Message and data rates may apply. Carriers are not liable for delayed or undelivered messages. If you no longer wish to receive messages from Hey Sam, you may opt out at any time by texting the word STOP. You may opt back in by texting the services again. You may reply HELP for help. While Hey Sam operates from 9am to 9pm, Samaritans Helpline is available 24x7x365 by phone or text at 877-870-4673 (sms:+18778704673) and is available to anyone of any age. You may contact Hey Sam by email at [email protected] with questions about these Terms. Privacy Policy