Suicide Prevention and Awareness Workshops
Building expertise to prevent suicide is critical to our mission. We're here to teach communities how to recognize warning signs of suicide and provide support. Our free workshops on suicide prevention are delivered to middle and high schools, colleges and universities, workplaces, elder care facilities, and community organizations. Workshops can be in person or virtual.
Our Impact in 2023
331
events and suicide prevention workshops
96%
of adult workshop attendees say they can recognize warning signs
Community Resource Fairs
We are happy to share the suicide prevention services we provide at community resource fairs at schools, churches, religious organizations, or other settings. Contact the Community Education and Outreach team to invite Samaritans to attend your event.
Youth Workshops
Suicide is among the top three leading causes of death for young people, ages 10-24. Youth feel immense pressure from bullying, harassment on social media, difficult coursework, unhealthy friendships and relationships, and many other stressors. Unfortunately, many young people struggle to reach out for help, in part because of the stigma associated with suicide and mental illness. Our free school-based workshops foster tough conversations for your students, parent groups, faculty, and administration. Reach out today to schedule an in person or virtual workshop for your school.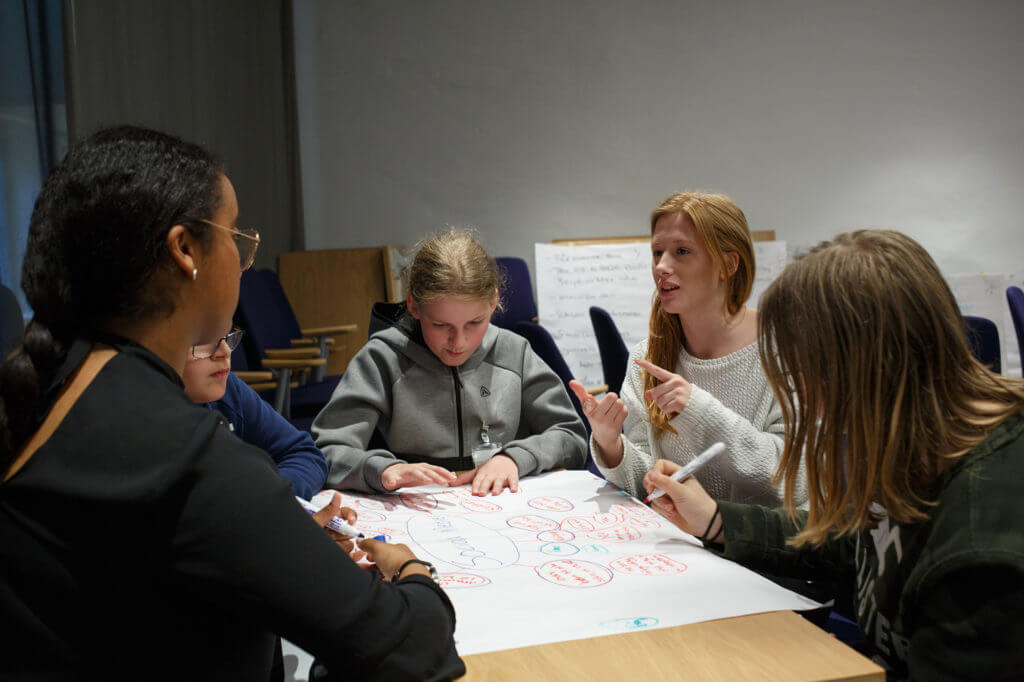 Youth
Youth workshops aim to help students understand their emotions and feel less alone. Small, interactive classroom workshops give young people a safe forum for conversation. Students discuss suicide myths, prevention strategies, self-care and coping, identifying trusted adults, and what to do when they or a friend needs help. While they can be tailored to your group, youth workshops are most appropriate for ages 12 and up.
School staff workshops provide tools and resources to respond to a student in crisis. Staff will learn how to recognize risk factors and warning signs of suicide, and identify basic steps for getting students help. These workshops are best for teachers, guidance counselors, nurses, and other staff.
Parent & Guardian Groups
Workshops for parents and guardians aim to teach the adults who care for students how to best support them during stressful times. Additional discussion may include school protocols and de-stigmatizing suicide and mental illness in the community, along with helpful resources.
Some Staggering Statistics
80
youth die from suicide every year in Massachusetts.
1 in 6
American youth experience a mental health disorder.
15%
of high school students in Massachusetts seriously considered suicide in the past year.
2x
High school students with significant symptoms of depression are more than twice as likely to drop out compared to their peers.
Community Workshops
Aging Population
As people over the age of 85 have the second-highest suicide rate of all groups, it is important to provide resources for the aging population to protect themselves and others at risk of depression and isolation. Elders may develop depression due to an illness, death of a loved one, moving from their home, or feeling lonely. Workshops break the stigma by letting elders know they can talk about suicide, and giving them a resource to turn to for help.
Workplace
Employees are in a good position to notice changes in behavior in their fellow coworkers. Workplace workshops break down the stigma of suicide and provide a supportive environment for discussion among colleagues. Hosting a workplace workshop demonstrates your commitment to your staff's mental wellbeing. These workshops also support employees whose lives have been touched by suicide.
Gatekeeper
Gatekeeper workshops equip human services professionals, such as nurses and social workers, with skills to support those who may be at greater risk. We encourage you to schedule a workshop, particularly if you work with the most vulnerable members of your community. We are happy to provide training for any group supporting those who are at higher risk for suicide.
Share Our Helpline Number
We encourage you to hang up posters with our Helpline number in common spaces at your school, office, apartment complex, community organization, or share them digitally. If you would like posters, wallet cards, or wristbands with our Helpline information, please email [email protected].
Need to help someone who is struggling?
Many people are afraid to talk about suicide, but it is often a great relief to someone thinking about suicide to know that you have noticed their pain. If you worry that someone you know may be suicidal, we have a few suggestions about how to help support them.
Hear from Workshop Attendees
We often hear great feedback about how powerful our suicide prevention workshops are on participants' lives! Read the stories from those who have hosted or attended one of our workshops!