There is a place for everyone to contribute to our collective mission of preventing suicide and offering hope and support to those affected. April has been an inspiring month as we have watched the many ways Samaritans and our community are working to create a world without suicide.
Team Samaritans ran the 127th Boston Marathon®
Each of the 14 members of Team Samaritans ran 26.2 miles on Monday, April 17 in honor of those lost to suicide and to raise funds to support suicide prevention. Collectively, they raised more than $160,000 to support this mission – all while putting in hundreds of miles of training each week to prepare for the marathon. We want to thank Martin Arogoneses, Patricia Dacey, Keller Dinan, Erik Dinardo, Ali Jordan, Niklas Jordow, Sarah Lane, Courtney Martin, Avery McNiff, Alexis Regan, Maggie Small, Maxwell Tripp, Rebecca Trachel, and Mick Zimmerman for their commitment and dedication to this work. You all are truly an inspiration.
We published an article about self-care for the 10th anniversary of the Boston Marathon bombing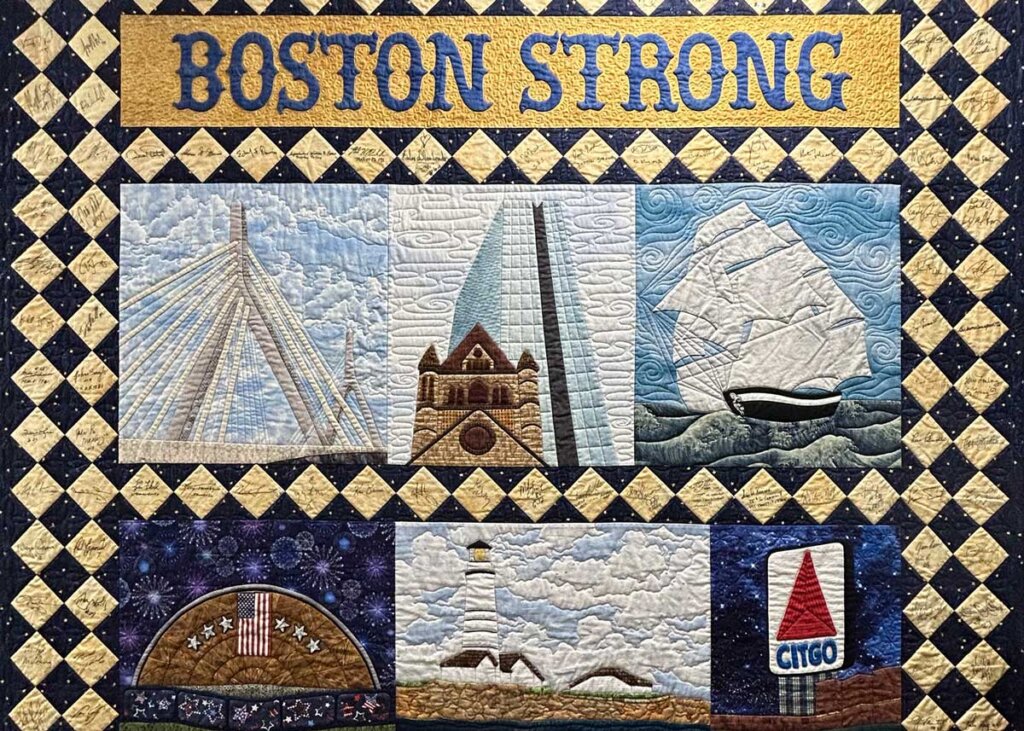 This month marked 10 years since the Boston Marathon bombing took the lives of three people and injured hundreds. That day, and the days that followed, were traumatic and difficult for so many people throughout Massachusetts. Knowing this can be a challenging time for many, we shared an article with our extended Samaritans community to encourage everyone to engage in self-care during this time.
Our staff attended the 56th Annual American Association of Suicidology Conference
Twelve staff members from our crisis services, community education, and administration teams traveled to Portland, Oregon, during the week of April 17 to attend the 56th Annual American Association of Suicidology Conference. We prioritized attendance at this event to be able to learn what others in the field are doing to prevent suicide and how those approaches might be adapted for our work in Massachusetts. It was helpful for us to learn about suicide prevention programs that are being co-created with communities at increased risk for suicide to better meet cultural needs, and it was so exciting to see how organizations and researchers across the country are advancing racial equity in suicide prevention.
WCVB Channel 5's nightly news magazine, Chronicle, interviewed Samaritans about youth mental health and crisis
On Tuesday, April 25, Chronicle aired a story about youth mental health and crisis. News Anchor Anthony Everett interviewed our CEO, Kathy Marchi, who talked about the genesis for our youth support textline, Hey Sam. He also interviewed one of our Hey Sam volunteers, Brooklyn McDermott-Hyland, who spoke not only about her experiences answering conversations on the textline, but also about the challenges people her age are facing. We are so happy to have found a place in this story to help continue to break the stigma of mental health and suicide for our youth.
Follow Suit Founder Anthony Thompson will join us at our 2023 Breakfast for Hope as a featured speaker
Anthony Thompson founded his nonprofit organization, Follow Suit, in 2021 after he realized that there was a place for him to make a difference in his community. He has spent the last two years building his organization, which provides leadership development and mentoring opportunities to young men and boys in the inner-city neighborhoods of Boston. We are thrilled to have him join us as a guest speaker at our 2023 Breakfast for Hope on May 23, and we are certain he will inspire all of us.  Don't forget to reserve your seat for this year's breakfast.